The Current Weather in
Mt. Morris, IL 61054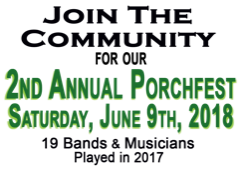 Bands,
Groups & Solo Musicians
Community • Music • Art
Saturday, June 9th, 2018
Porches 1 – 5:00pm
Bands
Community
Music • Art
Saturday
June 9th, 2018
Porches
1 – 5:00pm
Bands Perform for 50 minutes
The Venues are Porches
Move Around Town and Hear Your Favorites
Bands Perform
for 50 minutes
The Venues
are Porches
Move Around Town
and Hear Your Favorites
1-2:00pm

1 Wade Buzzard

Feel good Rockin' Country Boy Blues. Top 10 songs from the 50's through today. Guitar, Harmonica & Voice (Some friends might jump in as well!)
@ Bold's, 109 East Front St.


2 Crunchy Frogs

70's 80's 90's classic rock a RAMI winning band in rockford
@ Zabran's,106 South Mulberry Ave.


3 Sauk Valley Community Church

Acoustic band featuring some contemporary Christian music with a side of pop and jazz. 2 guitarists, saxophone, percussionist and vocals.

@ Ebersole's, 301 East Front St.

4 Home by Nine, Harold Harrison

Traditional folk & country; some original songs. Guitar, harmonica, percussion.
@ The PineCrest Gazebo, East Brayton Rd. between Wesley and McKendrie


2-3:00pm

5 Josh Weaver, with Matt Dusing

Singer/Songwriter, folk, acoustic guitar, ukulele, percussion
@ Weaver's, 311 East Lincoln St.


6 The Nealy Project, Charles Nealy
This band will debut with a selection of progressive and roots blues played by some of the areas most talented singers and musicians. You will be pleased with what you hear.
@ Neal's, 1 South Mulberry St.


7 Quite Contrary, Mary Ley

Playing Irish, Spanish and American Folk Tunes on guitar. Mary sings music that will engage young and old alike. Acoustic – folk
@ Mt Morris Library, Front Street Porch,105 South McKendrie Ave.


8 Griffin Vos

Concert and Jazz Trumpet
@ Tate's, 5 East Lincoln St.


3-4:00pm

9 Bill Cook Jr.

Blues Rock / Jam Power Trio Additional special guests TBA
@ Cook's, 110 East Front St.


10 Jeff Corcoran

Guitar and sing blues, country, and wide variety of music
@ Myers's, 8 West Lincoln St.


11 Well Strung, Gregg Bernhard

Two acoustic guitar players, harmonica player, keyboards and stand up bass. We play country, classic rock-n-roll and red dirt music. 3 and 4 part harmonies
@ Dietrich's, 115 West Front St.


12 RuthAnn Lillstrom

Guitar, folk singer doing a mix of original and covers.
@ McKanna's, 206 East Center St.


13 Dan Wean

Guitar, singer/songwriter folky rock, covers with a few originals songs.
@ Leamanczyk's, 210 East Lincoln St.



4-5:00pm

14 Acoustic Axis Larry Ubben, Kevin Remrey

Blues, Classic Rock & Country
@ Martin's, 201 East Brayton Rd.


15 Blues Fever acoustic duo, Dennis Stukenberg

Blues and Americana music, harmonica and slide guitar
@ Coblentz's, 206 West Center St.


16 Dave Redmore

Americana/Folk/Acoustic Rock/Gospely/Bluegrassy mix
@ Bold's,109 East Front St.


17 Bill Cook Sr.

Country Music
@ Faris's, 208 South Wesley Ave.


18 Jonathan Shively

Singer/song writer, solo with acoustic guitar, original music in a poetic and rhythmic style
@ Dunham's, 111 West Front St.


19 Chris Kolling

Guitar with an emphasis on improvisation. Using a loop pedal to build a backing track, I improvise melodies, harmonies and solos.
@ Hough's, 205 South Ogle Ave.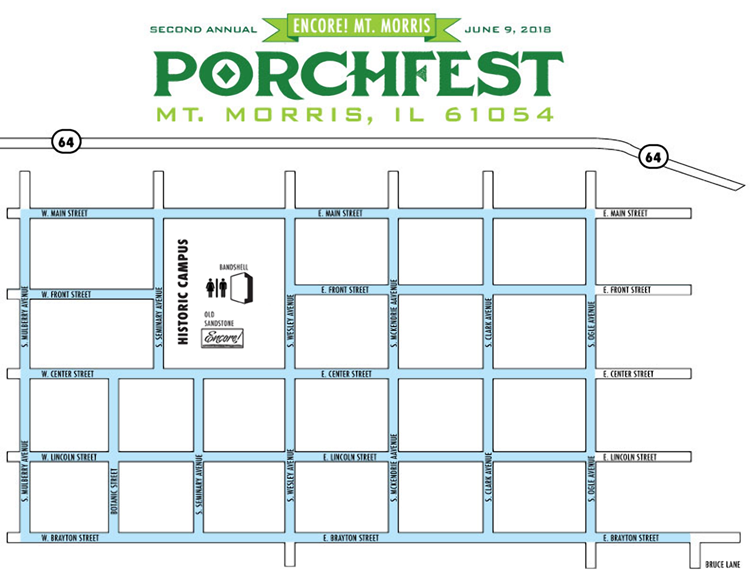 ENCORE! PORCHFEST 2018
Boundaries:

North - Main Street
South - Brayton Road
West - Mulberry Avenue
East - Ogle Avenue
& Brayton east to Bruce

Including both sides of each street and intersection.
Residential locations include any area within these bounds.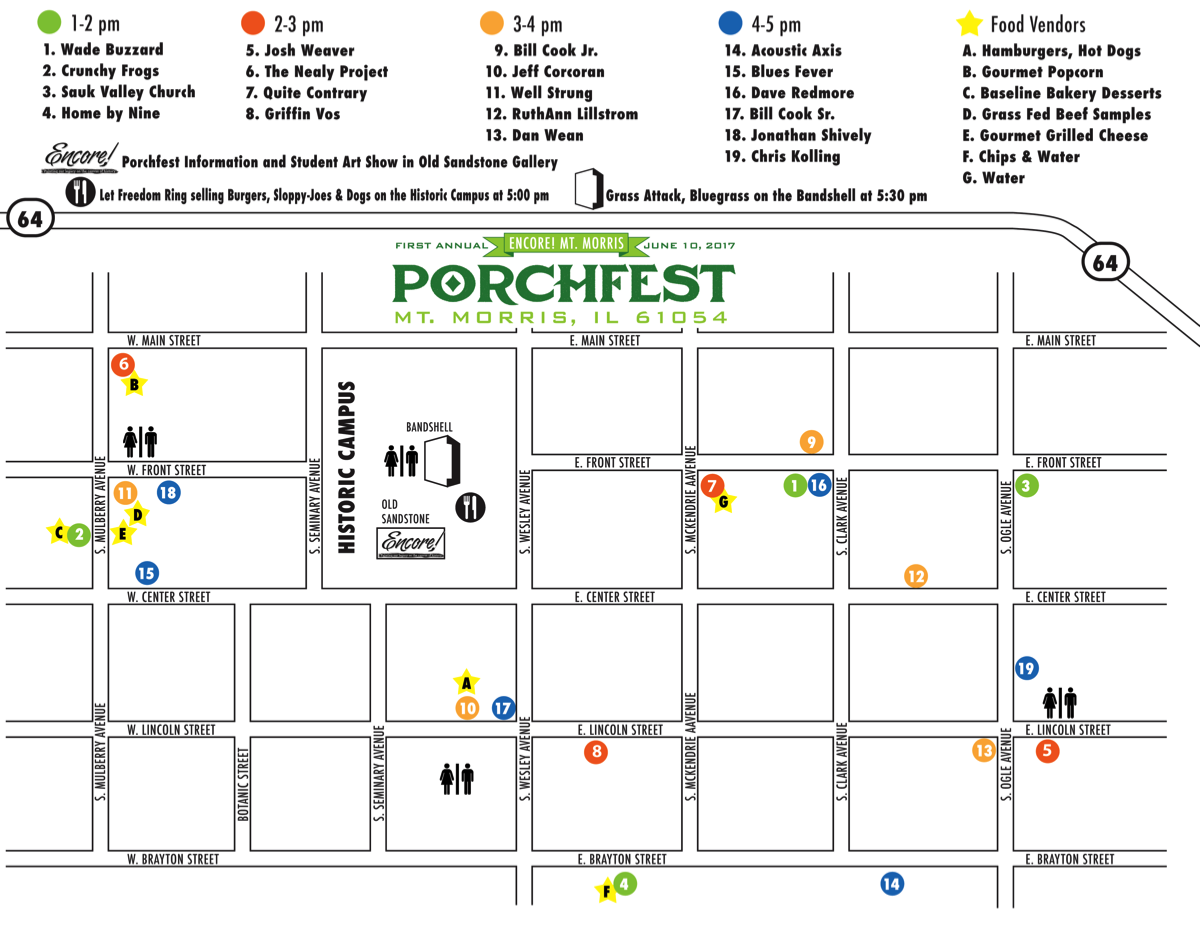 ENCORE! Mt. Morris Student Art Show
June 1st – 27th
Old Sandstone Gallery
Open during the concerts on
Wednesday and Friday evenings,
during PorchFest and
other special occasions.
ENCORE! Mt. Morris Student Art Show
Opens Friday, June 1st
Old Sandstone Gallery
Porchfest Schedule and Map also available at the Gallery
Friday Night 6:-9:30 & Saturday Noon - 6 pm